Announcement of International Teaching Week 2018
05/11/2018 - 10:05
Vidzeme University of Applied Sciences (ViA) is pleased to announce International Teaching Week 2018 "Where social sciences and STEM collide". The event will take place in Valmiera, Latvia, from October 22 to October 27.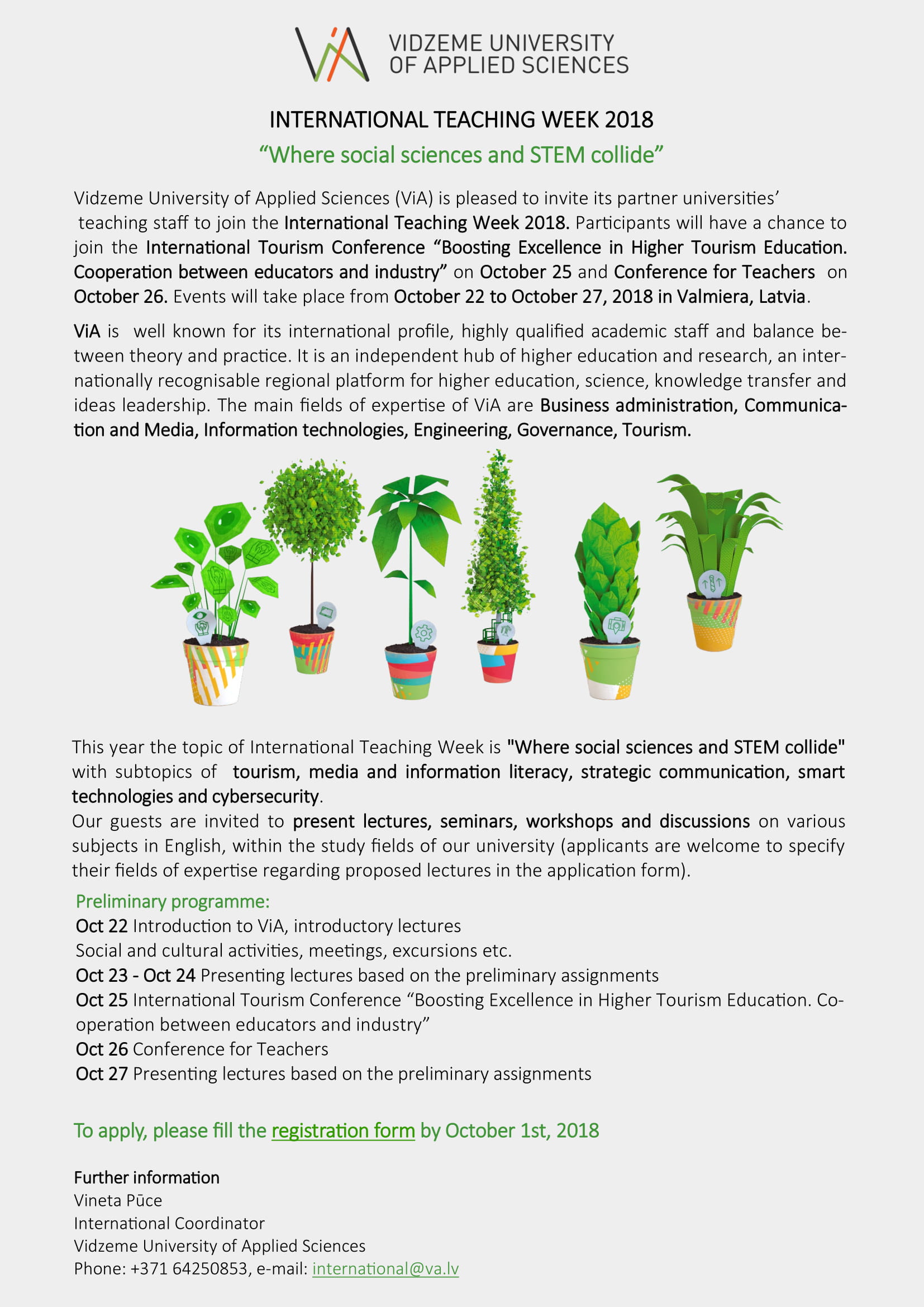 We invite personnel from our partner universities' to participate in the Teaching week with their lectures on different topics: tourism, media and information literacy, strategic communication, smart technologies and cybersecurity. The work language is English. Also non-academic staff is invited to participate.
Besides that participants are welcome to join International Tourism Conference "Boosting Excellence in Higher Tourism Education. Cooperation Between educators and industry", which will take place on October 25 as well as join Conference for Teachers on October 26.
The application form is available online - here. The application deadline is October 1, 2018.
Last year ViA hosted International Teaching Week on topic "Digital solutions for overcoming social challenges". We welcomed particpants from Finland, Sweden, Slovakia, Moldova, Albania, Belarus and Kyrgyzstan.
ViA is  well known for its international profile, highly qualified academic staff and balance between theory and practice. It is an independent hub of higher education and research, an internationally recognisable regional platform for higher education, science, knowledge transfer and ideas leadership. The main fields of expertise of ViA are Business administration, Communication and Media, Information technologies, Engineering, Governance, Tourism.
The International Teaching Week 2018 is co-financed by the Erasmus+ programme of the European Union.