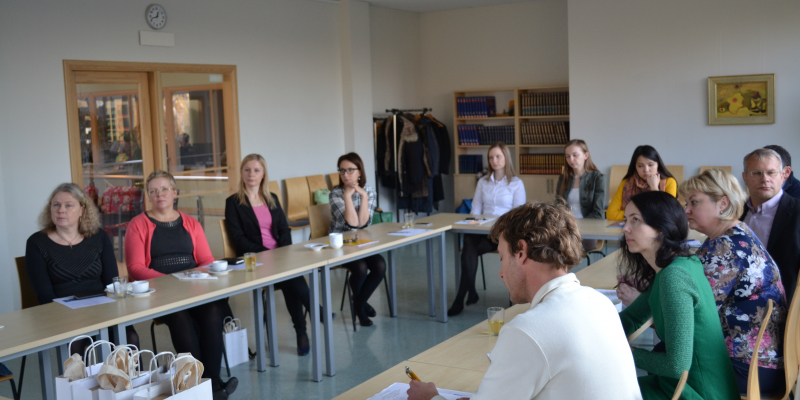 Vidzeme University of Applied Sciences hosts International Teaching Week
11/27/2017 - 14:52
From 27 November until 1 December 2017 International Teaching Week is taking place at Vidzeme University of Applied Sciences (ViA), welcoming guest lecturers from Sweden, Moldova, Belarus, Finland, Albania and Kyrgyzstan.
The initiative aims to strengthen ViA's business relationships, boost information and experience exchange at an international level as well as offer global and diverse study experience to its students.
The theme of this year's International Teaching Week is "Digital solutions for overcoming social challenges." It is not an accidental choice, as ViA has defined this subject as the key focus for its scientific research within its current strategy. Guest lecturers will share their experience and ideas on the topic throughout the week.
On Monday, 27 November, the lecturers were welcomed by ViA rector, Gatis Krūmiņš, who introduced everyone to the university, its study programmes, current projects as well as its strategic priorities and vision.
Throughout the week, the visitors will have an opportunity to explore ViA buildings as well as participate in excursions around Valmiera and the surrounding areas. They will also attend various social events.
The lecturers are also invited to take part in North Vidzeme Biosphere Reserve 20th Anniversary Scientific-Practical Conference, which ViA is hosting on Thursday 30 November.
International Teaching Week at Vidzeme University of Applied Sciences is realised as part of the EU's financed ERASMUS+ projects.