Postdoctoral Researcher at Vidzeme University of Applied Sciences
Dr. Boudhane sets his sights on the underwater world
Coming from the largest city in Morocco, Casablanca, which embraces a population almost double that of Latvia, Dr. Mohcine Boudhane had his heart set on yet another challenge, when he decided to move more than 2000 kilometers to the northeast and settle in a small, but buzzing Northern European micro-city, Valmiera, to pursue his postdoctoral research. 
We sat down with Mohcine to talk about his research work, to find out what his career has looked like to date and what drove his move to Latvia.
Driven by an idea
Dr. Boudhane's postdoctoral research project is titled "Study of Computer Vision Algorithms for Underwater Fish Inspection". It may sound like a mouthful, but his work responds to a global issue, he tells. "The oceans cover around 75% of the Earth's surface, containing minerals, food and raw materials. The trouble is that currently, we are able to get just 1% of the oceans' resources and are yet to discover the other 99%. I came to Vidzeme University of Applied Sciences (ViA) to bring this other 99% to light."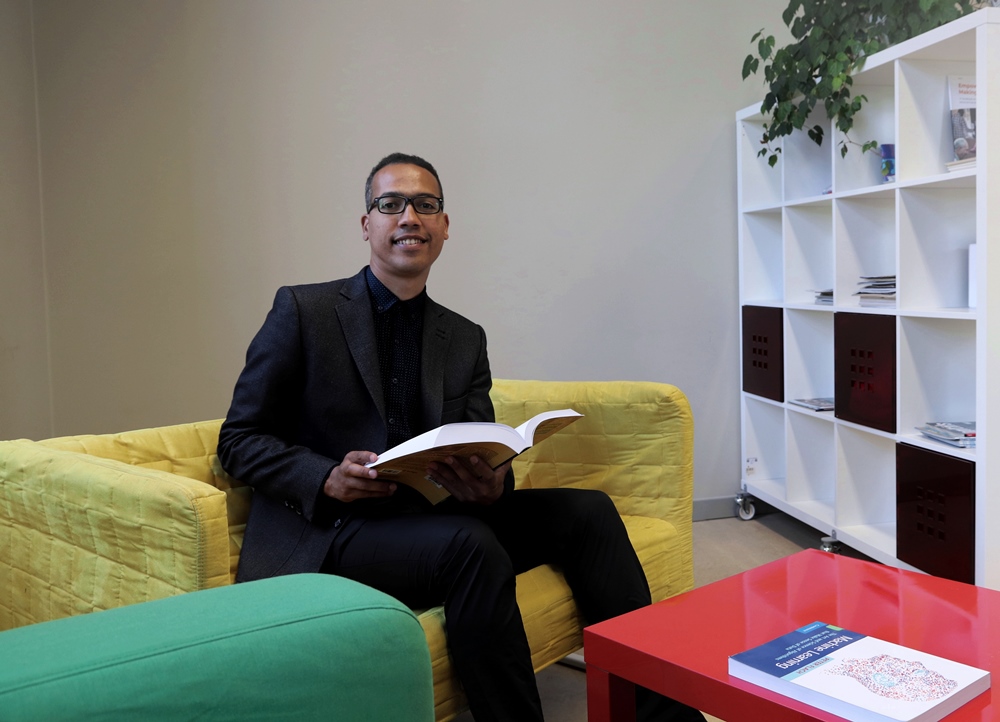 During his three-year postdoctoral research project, Dr. Boudhane plans to build a new sensor that can look for, detect, recognize and track objects underwater. "We will start with fish detection and take it from there. Later on, we will be able to use this kind of sensor on underwater robots to carry out operations and maybe we could even contribute to ending pollution.
"The idea for this sensor came to me towards the end of my Ph.D. research, when I realized that it could be built, combining the advantages of sensors currently available and avoiding their inconveniences. It will be the first such a sensor in the world, so it was crazy to think about building it myself at first, but I realized that the resources are available and I was after a challenge, so here I am."
To carry out the project, Dr. Boudhane has teamed up with researchers from the Kiel University of Applied Sciences in Germany and University Hassan II, Faculty of Sciences Ain Chock Casablanca. It will be the first such research project for ViA and the sensor has great potential of becoming an excellent export product for Latvia once completed.
Detecting own passions early
Today, Dr. Boudhane's research covers computer vision, artificial intelligence, and machine learning. However, his passion for all things tech was ignited quite early in his life, when he joined the best technical high school in Morocco, Lycée Al khawarizmi Casablanca. "I first was introduced to a computer in high school, I didn't have one at home. Subsequently, I found social subjects, such as history, a bit boring. Instead, I chose to learn electronics, mechanics, 3D drawing and programming. Looking back, the programming was pretty basic, but at the time, I was already amazed by the opportunity to be creative and actually develop and make things."
Upon finishing high school, Dr. Boudhane kept his standards high and moved on to study for a bachelor's degree at the best university in Morocco, University Hassan II, Faculty of Sciences Ain Chock Casablanca, where he had to prove himself in order to continue pursuing his passion. "I was studying Information Technologies (IT) and Mathematical Sciences, but due to limited computer equipment, only 50 of the best students could specialize in IT after the first year. I made the top 50."
After gaining an undergraduate degree, Dr. Boudhane not only continued his postgraduate studies but graduated as the best master's student in his class. His academic accomplishments led to him being offered a scholarship for Ph.D. studies in a joint program of University Hassan II, Faculty of Sciences Ain Chock Casablanca and University Hassan II, Faculty of Sciences Ain Chock Casablanca
"It isn't life if it doesn't challenge me."
The undeniable academic success set Dr. Boudhane up for a great professional career. Straight after gaining his Ph.D., he was offered a professor's position at University Hassan II, Faculty of Sciences Ain Chock Casablanca and also worked as a tutor at Ecole supérieure des industries du textile et de l'habillement. "Every Ph.D. student's dream is to become a professor, but although I had gotten to the top of what I could be doing professionally, I realized that I didn't want my career to be stagnating. In a sense, it felt like I was doing the same thing every day.
"I wanted to progress, to have challenges, to help people to do something, maybe even change the world. I realized that for me - it isn't life if it doesn't challenge me. That is when I decided to pursue the idea of building a high-detection underwater sensor and find a way to do it effectively through research."
Individual approach at ViA seals the deal
Dr. Boudhane wrote a research proposal and submitted it to a number of institutions in Europe, he was offered research positions in both Italy and Germany. So, what brought such a promising researcher and his work to Valmiera and made him one of the first international postdoctoral researchers in Latvia? "It was the nature and people," he reflects. "The team at ViA was the only one to invite me over for a visit to examine my research proposal before submitting it to the final round. It was my first time in Latvia and I spent ten days here. I met highly motivated people and was impressed by Valmiera. It is such a contrast to Casablanca and I thought that I could not possibly get stressed doing my research in such a green and calm environment, it was the place to be. I told my ViA colleagues there and then, that I would be back the following year, although my research proposal was not approved yet."
Having studied in the top educational institutions in the world, Dr. Boudhane says that he would not hesitate to add ViA to his list of the bests. "The university is growing, and I consider it to be one of the best universities in Latvia. Its secret is its people, everyone here wants to make it to the top, so to me it feels like we're already there."
A slice of heaven on earth
At the time of the interview, Mohcine has spent a little more than four months in Valmiera and happily compares his relationship with colleagues to that of family members. "People were one of the things that drew me to ViA, but since I've arrived the connection has only grown stronger and my relationship with my colleagues has grown way beyond friendships, I consider them to be my family. They are very helpful and kind and involve me in their social life as well. I had the pleasure to participate in the traditional Latvian midsummer celebrations with one of my colleagues and it was incredible. I had never seen the traditional dress of Latvia, but I have to admit that I did find some unlikely similarities with the traditional dress of one region in Morocco."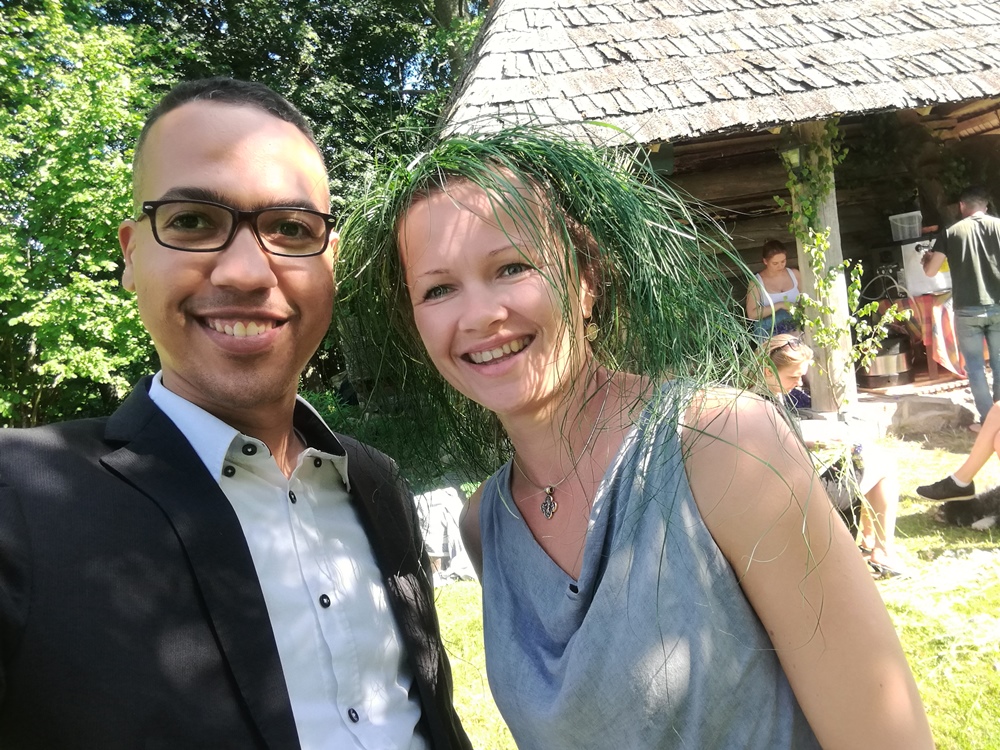 Despite coming from a city with a population of 3.3 million, Dr. Boudhane doesn't consider Valmiera to be small. "You have everything here that one could need from a city. Although it is very close to nature and you can go down to a forest or a river in a few minutes, here is also a large shopping center, cinema and a lot of cafes and restaurants."
Before coming to Valmiera, Dr. Boudhane knew of Latvia due to his interest in football, basketball, and hockey. He admits that some people mixed Latvia up with Lithuania and Google Maps came in handy when he was sharing his next career move with friends.
Although some called him crazy for leaving his secure and prestigious job in Morocco, since he has come here and shared his experience and photos of Valmiera with his friends, everyone has been swayed. "I would recommend to every person who wants to do research to come to Latvia, this is the best place I could imagine for the stillness of the mind. And the weather is always great for staying active - you can go skiing in the winter and in the summer, you can enjoy the sun and go hiking, boating on rivers or explore Latvian forests. The nature here is amazing and I sometimes do feel like I'm in heaven as I walk through Valmiera."
Get in touch with Mohcine Boudhane:
mohcine.boudhane@va.lv
Dr. Mohcine Boudhane's ResearchGate profile