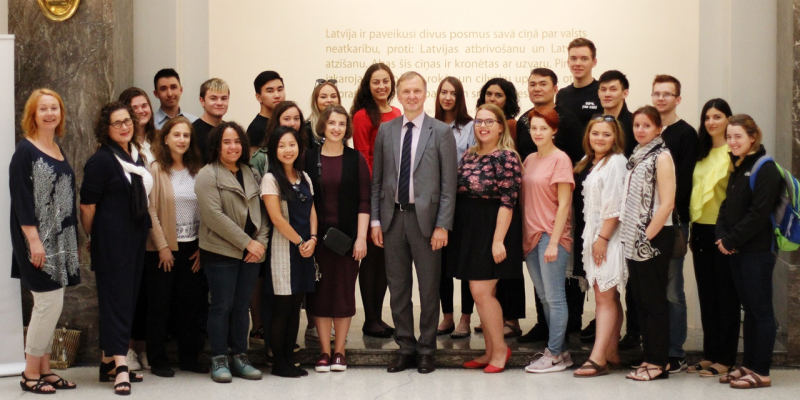 Baltic International Summer School on media literacy has ended
07/03/2018 - 08:45
Baltic International Summer School (BISS) 2018 has officially ended, with 25 students from nine countries receiving certificates for completing the course "Media Literacy and Democracy: Baltic Perspective".
Looking back at the summer school experience, BISS participant Seth Bennett from the United States of America says: "Media literacy is important not just because we hear a lot about "fake news" but because media dictates the way we perceive everything around us. If we don't think critically about the information we take in and the way we consume it, then it's meaningless and it may even be harmful. So I think this is an important class to take for everyone, especially right now."
Georgian student Nino Tabeshadze adds: "Nowadays we are all living in an informational era, so the way we deal with information has become very important. I believe that we have to have media literacy as the main tool to keep ourselves in check about what kind of information we share and consume. "
The aim of this intensive program is to make students more perceptive media users and content producers, able to take an analytical and critical approach towards their media use. Therefore, during the summer school, students participated in lectures and workshops on the topic, led by professionals from the field of media and communication. To complete the course, students put their newly gained knowledge to practical use by creating micro-documentaries on topics such as disinformation, fake news sites, pseudoscience, and privacy on social media.
Baltic International Summer School has been taking place in Vidzeme University of Applied Sciences (ViA) every year since 1999. This year's BISS programme was organised by ViA in collaboration with State Development Agency of the Republic of Latvia, the Council of the Baltic Sea States, U.S. Embassy in Riga, University of Minnesota Morris, and Valmiera Municipality.