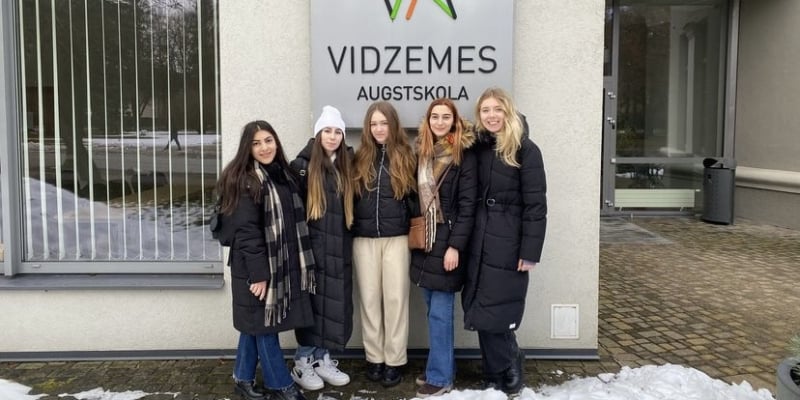 Erasmus+ student success story
06/05/2023 - 10:04
In the 2023 spring semester, two girls from Armenia studied at Vidzeme University of Applied Sciences. While studying at Brusov State in Armenia, Monika Papikyan had an Erasmus+ opportunity to study at Vidzeme University of Applied Sciences in Latvia for 5 months. In Valmiera, she was studying for a master's degree in the field of Tourism and Business Environment Administration. But third-year student Lusine Tovmasyan at Brusov State University in Armenia, from the Department of Service and Social Sciences. It all began when I filled out the application and got selected as an Erasmus student to study Tourism Management. 
Monika shares her experience with her studies: "Ever since I started my second higher education, I wanted to have an academic experience abroad. And, as someone who previously participated in Erasmus+ programs and who knows how life-changing they can be, I just couldn't miss the opportunity to be an Erasmus student. Due to the effective communication between my home and receiving universities, the application process for the Erasmus+ study mobility program went quite smoothly. I was provided with thorough guidance on everything from application procedures to visa requirements. During my mobility, both institutions were responsive and helpful whenever I required assistance. My academic and personal lives have significantly changed. I had the chance to enroll in academic courses that weren't offered at my home university. The exposure to the engaging learning environment, new teaching techniques, and expertise of lecturers broadened my academic perspective on learning and gave me practical skills that I may use throughout my career. The Erasmus+ study mobility experience also benefited me personally by fostering a sense of freedom and self-reliance. Living outside my home country during my Erasmus+ mobility was an incredible experience. The interaction with students from different cultures was the best part of it. It truly filled me with a strong sense of unity and appreciation for diversity. Another remarkable part of my Erasmus+ mobility was getting to know Latvia. It has such breathtaking nature and cozy cities. Living and studying in Latvia simply made me appreciate the beauty of opening myself up to new experiences. The advice I have for future Erasmus+ students is to take full advantage of what will be offered during your study mobility. Don't miss the academic opportunities, participate in noneducational activities, and engage with other students as much as possible to make the most of your Erasmus+ journey!" 
Lusine tells about her journey during Erasmus+ studies: "Little did I know that this opportunity would transform my life in unimaginable ways. Knowing absolutely nothing about this university I decided to come and make my dream come true. Now it has been five months since I am living in Valmiera, Latvia, and studying at Via, and this was the most remarkable semester of my study life. Via is my second university, and Valmiera is my second home. Why I decided to participate in Erasmus + study mobility because studying abroad was my daydream and let's say it comes true. As a student passionate about tourism, I saw this opportunity as a gateway to immerse myself in a new educational environment, gain global perspectives, and develop valuable intercultural skills. My journey won't be as smooth as I imagined without the support of both sending and receiving higher education institutions, they provided exceptional support. The sending institution guided me through the application process, ensured a smooth transition. Once abroad, the receiving institution welcomed me with open arms, providing academic guidance, and assistance in finding accommodation. Throughout my mobility, both institutions maintained regular communication. The most important part of my success story is the achievements both academic and personal. My Erasmus+ study mobility journey has been a transformative period in my life. Academically, I had the opportunity to enroll in specialized courses that were not available at my home university. The diverse teaching methods and perspectives broadened my understanding of my field and expanded my academic capabilities. Also, collaborating with international classmates on group projects developed my cross-cultural teamwork skills, 2 enhance my ability to work effectively in diverse settings. On a personal level, this study mobility pushed me outside my comfort zone and taught me invaluable life skills. Living independently in a foreign country, managing finances, and navigating new social environments helped me develop self-reliance and resilience. I made friendships with people from different backgrounds and as an over-introverted person, I found my new personality in companion of other students. Living outside my home country during Erasmus+ mobility was an eye-opening experience. It gave me the exceptional chance to travel through Europe and explore other cultures except for Latvian. I have the best memories of my life relating to our trips. Also, Erasmus+ allowed me to immerse myself in a new culture, improve my English skills, and learn the local's language. I will always remember my Latvian teacher Baiba; she did a great job teaching us not only the Latvian language but also Latvian culture. I still remember my favorite expression in Latvian ''Man patik Valmiera'' which means I love Valmiera, and yes, I love Valmiera, I like the atmosphere here, the peace, the nature, the cuisine, my favorite food place Bastions, Gauja River and even the shopping mall Valeta. I am going to miss my friends, our bonfire nights around Gauja River, and also my room, because I have the craziest memories inside the walls of the dormitory. My best advice for future Erasmus students is to be willing to step out of your comfort zone, explore new opportunities, and engage in meaningful interactions with people from different backgrounds. Second, make the most of every moment. Take advantage of the diverse range of courses, participate in different activities, and immerse yourself in the local culture. Lastly, maintain a balance between academic pursuits and personal growth. Strive for excellence academically, but also take time to travel, and create memories that will last a lifetime. Remember that Erasmus+ gives you a great chance to start a life-changing journey, but you are the main creator of your own Erasmus journey."