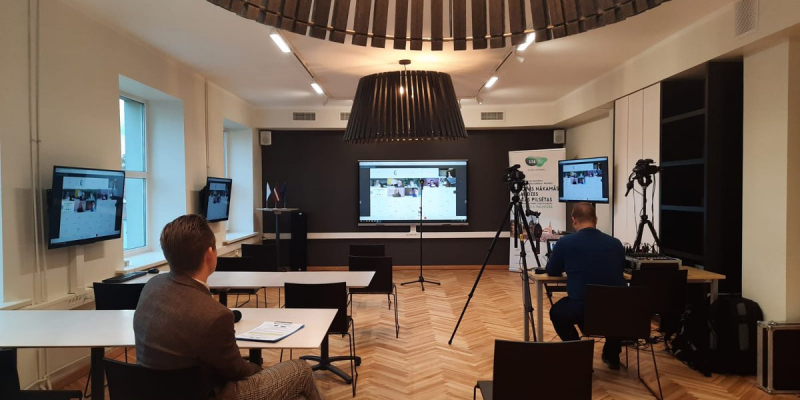 International Week at Vidzeme University of Applied Sciences will Focus on Engaged and Entrepreneurial European University
03/31/2021 - 15:25
From April 12 to 16, the traditional International Week of Vidzeme University of Applied Sciences (ViA) will take place online offering seminars, workshops and lectures led by international partners with the aim to promote international experience, share knowledge, as well as further cooperation.
On Monday, April 12, the International Weel will start with introductory lectures for the participants of the event, which will include presentations about the university and an introduction to Valmiera, as well as an introductory lecture on the Latvian language and culture.
On Tuesday, April 13, activities are planned in the framework of the project "Engaged and Entrepreneurial European University as Driver for European Smart and Sustainable Regions" - workshops that will develop skills for work with the future challenges of university staff, students, researchers, as well as school career counsellors and others. Find out more
On Wednesday, April 14, there will be a workshop "Social simulation as a pedagogical tool to increase environmental awareness" in the framework of the project "Simulation Games in Strategic Communication" (SimGames)
On Thursday, April 15, a seminar on educational technologies (EdTech) will be held.
On the final day of the event, April 16, lecturers from ViA partner universities will offer interesting guest lectures.
International Week is an important event that is essential for establishing new local and international contacts and strengthening existing partnerships. During the event, ideas for new initiatives and projects are promoted, as well as international experience is acquired.
The event is open to anyone interested in the aforementioned topics!
Language of the event: English
You can get acquainted with the programme here
If you are interested, please apply here: ej.uz/viaapply
Event sponsored by Erasmus+ programme, European commision, ERAF.