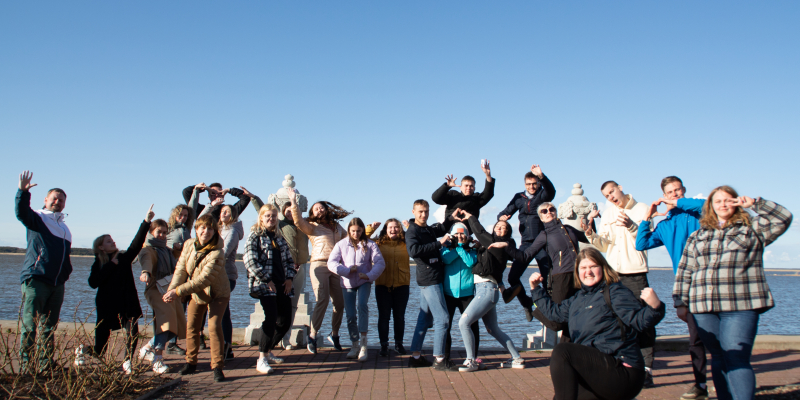 Tourism students carries out their internship in Estonia
05/03/2022 - 11:44
From April 25 to April 29, the third-year students of the study program "Tourism Organization and Management" of Vidzeme University of Applied Sciences, together with the second-year tourism students of Kaunas University of Applied Sciences, completed an internship in a neighboring country - Estonia. The aim of the internship was to acquire practical skills in organizing and managing tours, hotel reservations and more.
Every year, the students of the study program "Tourism Organization and Management" go on a five-day excursion to one of the neighboring countries, this year to Estonia. Students are allocated a budget of 6612 EUR, with whom they are operating themselves by booking and choosing the most advantageous transport solutions, accommodation and excursion destinations. Based on the situation - they practice their skills, acting as tour guides - in the process of preparation, looking for information about different objects and places, as well as leading a group, sharing the information to others, educating other participants about the selected tourism sites.
This year, the future tourism specialists together with the lecturers had chosen the route that led in the direction - Pärnu - Kuressaare - Haapsalu - Wormsi - Viljandi. The sights chosen every day were very diverse. Various castles, castle ruins, sculptures, churches, the most important sights of the old town, hiking trails, as well as Kuressaare College in Estonia were visited, where students got acquainted with the study offer, education system, history of the college and educational equipment. Impressions were gained at all the attractions, not only about the significance and history of the place itself, but also about the way it was presented by the groups.
The most important lesson learned from the trip - we can't always trust the promised weather - because the wind on Wormsi Island made many students think about their chosen outfit. And it is not always possible to implement everything - however students found the best solutions to these type of situations.
The student study excursion for Tourism students is funded by the Nordplus project NPHE-2020/10120. The Nordplus project has been implemented jointly for undergraduate students in tourism since 2012. In 2019, Kaunas University of Applied Sciences (Lithuania) joined the project. Every year, about 30 students have gained valuable international experience within the framework of Nordplus Express project for Tourism students.
Video about this week: https://www.youtube.com/watch?v=MSPuoYlW-QM
The information was prepared by:
3rd year student of media studies and journalism:
Ieva Jomerte
E-mail: ieva.jomerte@va.lv