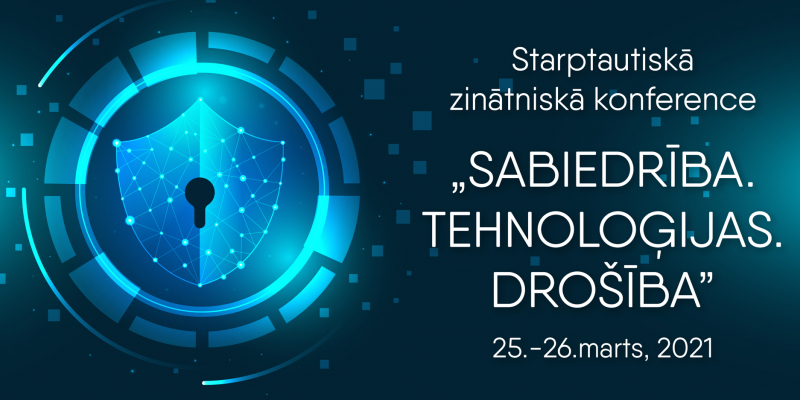 Vidzeme University of Applied Sciences Organizes Scientific Conference
03/01/2021 - 19:02
On 26 March 2021, Vidzeme University of Applied Sciences is organizing International Scientific Conference "SOCIETY. TECHNOLOGY. SECURITY". The aim of the conference is to stimulate discussion and provide a platform for researchers to share ideas on recent trends and developments in disciplines such as secure society and secure technologies.
Researchers and academics from Latvia, Morocco, India, Estonia, France, Italy, and the Czech Republic will have the opportunity to disseminate the results of their research to the wider audience at the online conference which will be broadcast live on the Webex video conference platform and YouTube.
The conference will be opened by ViA Rector Gatis Krūmiņš and Valmiera City Municipality Council Chairman Jānis Baiks, followed by a presentation by LMT President Juris Binde "Digitalization and CyberSecurity - Opportunities and Challenges for Industry 4.0".
Five-panel discussions will be organized during the conference:
Focusing on the Public Sector's Communication in Turbulent Times: Drawing Conclusions from Recent Experience and Drafting Future Steps
Monitoring Devices for Human and Sea Health and Security
Using Qualitative and Reliable Information to Promote Security in 21st Century
Sustainable Development for a Secure Society
Latvian Heritage and Future Challenges for the Country's Sustainability: Research in the COVID-19 Era
Workshops will take place in parallel with the panel discussions. Due to limited number of participants, pre-registration is required for the workshops:
Re-imagining the Way Cybersecurity Research, Innovation, and Training are Performed in Europe
Remote Sensing and Environmental Modelling
At the end of the conference, the invited guest speaker Professor Andra Siibak from the University of Tartu will give a keynote speech "The Experiences and Reflections of Employees with Micro-chip Implants and the Potential Risks Associated with Such Practice".
Link to the Conference: https://www.youtube.com/watch?v=Y27mPvQ_5LM
Conference language: English
Detailed information on the program: HERE
Participants: Gatis Krūmiņš, Ieva Bērziņa, Katrīna Sudakova, Inita Blačforda, Ieva Zaumane, Linda Lancere, Ieva Grīntāle, Madara Prata, Oskars Java, Sanita Meijere, Agnese Dāvidsone, Baiba Rivža, Daina Bleiere, Māris Andžans, Armands Meirāns, Ginta Majore, The Information Technology Security Incident Response Institution CERT.LV, Ilze Dimante, Ieva Kalniņa, Māra Bleidere (Latvia), Mohcine Boudhane, Hamza Azbeg (Morocco), Mahender Reddy Gavinolla (India), Tatjana Koor (Estonia), The French Alternative Energies and Atomic Energy Commission (France), The National Research Council (Italy), Michal Kepka (the Czech Republic).
Scientific articles can be found in the following journals:
Baltic Journal of Modern Computing (BJMC)
Journal of Teacher Education for Sustainability (JTES)
Given that the conference will take place online, it will be free of charge.
CONTACTS: Head of Research Projects oskars.java@va.lv
The conference is funded by the project "Support for effective participation of Vidzeme University of Applied Sciences within the international scientific circles (ViA-lnt)" Project No. 1.1.1.5/18/I/005.