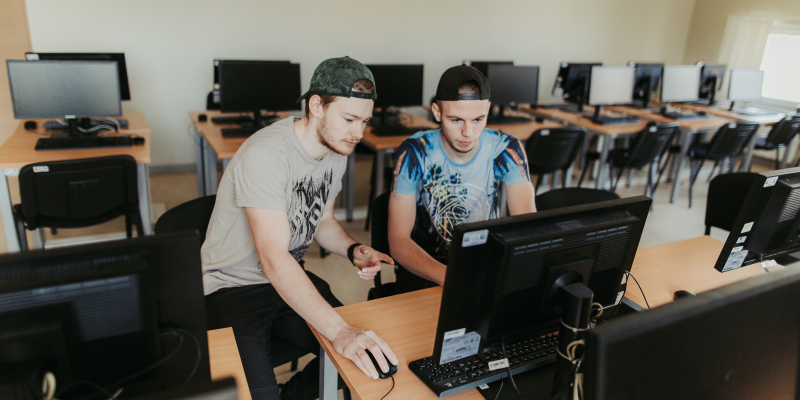 You Have to Believe in Your Idea
06/01/2020 - 08:54
Eduards Jesikens, a 4th year student of the study programme "Information Technologies" at Vidzeme University of Applied Sciences (ViA), has developed a virtual reality (VR) game while proceeding with his bachelor's thesis and plans to establish a business in relation to his research idea.
"I have always been fascinated by virtual reality, it is artificial, but it seems so real! It is a new, exciting way to interact with the virtual environment and its objects. The basis of the idea was the breakout game concept. I have always wanted to play such a game myself, but I didn't have the possibilities. The motivation to create my own breakout game was the fact that there are few of them in Latvia and in the world," explained Eduards.
The aim of the bachelor's thesis was to create a prototype for a game that would be not only interesting, but also complex and definitely different from those currently available in the gaming market.
"I wish to cooperate with a leading VR company in Latvia, which would offer this game to their customers for testing. It is meant for anyone who is interested in virtual reality games, solving brain teasers and puzzles," said Eduards.
So far Eduards has tried various virtual reality breakout games that are available, and, in his opinion, they are unnatural. "In the game I have created, everything takes place in a house and the tasks are realistic. The story develops and is understandable only when the player solves the tasks," added Eduards.
The student admitted that the most difficult thing had been to figure out the environment in which to develop the game - in space, in an abandoned house or in a completely unreal place and space. Among other things, the student had to think about tasks that would appeal to different people.
The company that wants to develop Eduard's idea is already acquainted with his and his coursemates' achievements as he won the 1st place in the VR/ AR Hackathon in 2019. "In case the cooperation with the company fails, I will definitely put the game on the Steam platform," said Eduards.
For the implementation of the project, technical knowledge is required. A high-quality and interesting product cannot be developed without it. "You have to be persistent and self-critical. Without confidence in your idea, you will not be able to present it and sell it to others. You have to be able to tell about it in such a way that people are excited and interested in playing," said Eduards.
Vidzeme University of Applied Sciences offers 17 study programmes in the study fields of business administration, information technology, mechatronics, construction, communication, media and governance, and tourism and recreation.