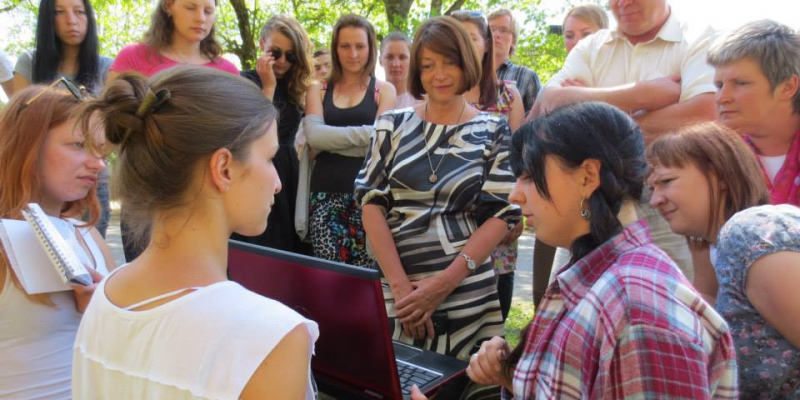 The students of tourism sector are starting their integrated area internship in Lubāna
05/14/2018 - 09:38
The students from Vidzeme University of Applied Science study programs – Tourism organization and managment (TOV) and Tour guides - Tour and event organizes (TG) – from 14th till 23rd of  May will spend the integrated area internship in Lubānas region. Within this framework, students will clean tourist attractions, create some new biking trails and organize events.
During the internship, 25 students will show their knowledge gained in study process in various exercises in the accompany of tutors Iveta Druva Druvaskalne and Juris Smaļinskis. TOV students will visit tourism object and enterpreneurs of tourism, to create new cycling routes. Meanwhile students of the TG program, under the guidance of Ilze Kraukle, the head of the tourism and cultural heritage center of Lubāna, will visit and acquaint themselves with Broņislavas Martuževas poetry barn to develop ideas for exhibitions and events.
On Friday, 18th of may, in the nature trail "Aiviekstes ozoli", all interesents will be able to take part in student organized event "Back to the stone age." In this event, the participants will get to know more about stone age by using various games and workshops, as well as see the theatrical performance "To hunt, to love, to survive" created by students. On Sunday, 20th of may, students are welcoming all local bicycle enthusiasts to go on a expedition "The climate of Lubāna lake before and now." During this expedition will be officially opened the Aiviekste outlet from lake of Lubāns. These events are organized in cooperation with support of the Latvian Environmental Protection Fund within the framework of the project "Youth to the youth in the environment"
During the practice, students will collaborate with Lubānas region tourism and cultural heritage center, as well as organizer of sport events and the leader of the association "Aborieši" – Māri Valaini, to clean and improve tourism and recreation places. Environmental improvement works will take place in such areas of Lubāna as the nature trail "Aiviekstes ozoli," the former railway line Madona-Lubāna, river Liede, Lubānas church, etc.
At the end of the internship, student will introduce representatives of the municipality of Lubāna and other interesents with their internship results and ideas which could be put in the Lubānas region development program for 2019-2026.
Information prepeared by:
Beatrise Gusmane